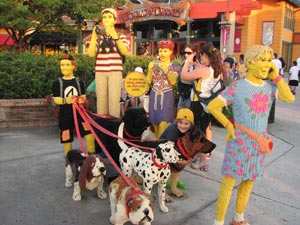 Disney is a great vacation, but if you can go during the slower times of year you will save yourself several headaches and maybe even a bit of money in the process.  So when are the busiest and slowest times to visit Disney?  Keep reading!
The Best And Slowest Times
September is the perfect time to visit Disney.  Anytime after labor day and you will avoid quite a bit of the crowd for a couple reasons.  For one thing it's the start of school and parents are not keen on having their children miss the first days back to school.
Secondly, it is the start of hurricane season in Florida, so weather can be a bit of a hit-and-miss, which turns some folks off of traveling there.  Mid September is also great because that is when they have Mickey's Not So Scary Halloween Party after hours at the Magic Kingdom and it's ton's of fun for the family.
The very beginning of November is also a great time to travel to Disney, but avoid any dates after the 5th, until the end of November rolls around.   The end of November and early December is another great time to visit Disney, but avoid the value resorts as they can be pretty crowded due to National Cheer and Dance Championships.  Also make sure you are out by December 21st as it starts filling back up then.
Finally another great time to hit Disney is after New Years, into the first week of February.  Most likely it isn't quite so busy because it's a bit colder in Florida, and it's right after the holidays, so take advantage!
Moderate Times To Visit
The first part of Thanksgiving week is fairly moderate as far as crowds and also the time in February and March in-between President's week and Spring break.  After that, you can try between late April and early June before kids get out of school for the summer.
Worst Peak Times
Peak times are pretty self explanatory.  President's week in February is a busy time, mainly because in the U.S. it is a national holiday and many schools extend the long weekend into a week long break.
Spring break for grade school kids is generally sometime between mid-March and mid-April.  This means kids are out of school for about 10 days, so that translates into Disney vacation for many families.
Thanksgiving weekend and Christmas through New Years Day is also a peak time for Disney.  Families are traveling back and forth and find that Disney is a popular place to meet up and spend some time together.
Memorial Day weekend is also an extremely busy time at Disney as folks get ready to kick off the coming summer.  And then of course, the super busy time which is summer itself.  Mid-June through mid-August is summer vacation for all school age kids. That means mom and dad are ready to hit Disney and have some fun with their families.  It is also when packages are at a premium and you will spend the most money, so if you can visit during off peak times, you will save a bundle and see a whole lot more!