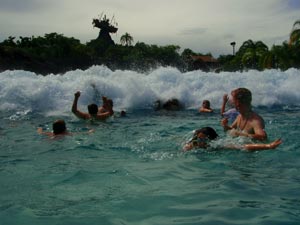 Disney is a great vacation idea. But it can be tough deciding where to stay with so many options to choose from. Do you choose an economy hotel? Or deluxe lodgings? Or somewhere in between? It really depends on your tastes and budget, so here I will go over some of your options so that you can make an informed decision.
Economy:
When possible, Disney owned hotels tend to offer the most variety in packaging, although not always the best choice in pricing. Not to mention they are the closest to the parks, which means you will spend less time commuting and more time having fun. Disney also has a 'Good Neighbor' program where they have partnered with neighboring hotels to offer various lodging options to Disney vacationers as well. That may just be where you will find your best Economy deal.
Three good ones that offer great deals are Anehiem Quality Inn and Suites, Jolly Roger Hotel, and Motel 6 Aneheim Maingate. All three offers affordable economy lodging for your Disney stay as well as other amenities.
Moderate:
Moderately priced lodging is available all over the place, including some really great Disney owned hotels. Some of the best options include Disney's Coronado Springs Resort, Disney's Port Orlean's Resort French Quarter, and Disney's Caribbean Beach Resort. All three offer some really great amenities at affordable pricing as well as a great Disney experience with many perks you might not find at neighbor hotels.
Of course there are many other options than just those three, you can search Google for Disney hotels and be taken to many different websites with many different options for lodging, it is all a matter of taste and what you can afford.
Deluxe:
Finally, you can find deluxe lodging instead of moderate or economy and really accentuate your Disney vacation. Granted it is a bit more money for deluxe lodging, but if you can afford it, well worth the extra costs. You will enjoy extras such as extra magic hours, bell services and arcade time, as well as multi bedroom units and table service dining.
Some options for deluxe lodgings are Disney's Animal Kingdom Lodge, Disney's Boardwalk Inn, Disney's Polynesian Inn, and Disney's Beach Club Resort, among several others. All of these resorts offer superior amenities and perks, and luxurious stays perfect for your next vacation.
Premium:
As a premium option you can also explore Disney Vacation Club resorts and villas. Some options include Disney's Beach Club Villas, Disney's Boardwalk Villa's and The Villa's At Disney's Wilderness Lodge. All offer first class luxury and offer a lot of the same benefits of a Deluxe hotel and also offers rooms with kitchens or kitchenettes, as well as Character breakfasts, which is not something you will get with a Deluxe resort package.
It all depends on your personal tastes, the needs and desires of your family and what your wallet can handle. A Disney vacation doesn't have to break the bank if you don't want it to, but you need to know you have options on how luxurious an experience you want to have. After all, the Magical World Of Disney is all about atmosphere and experience right?
Visit Walt Disney World for a one stop overview of the many Disney Resorts you can stay at.