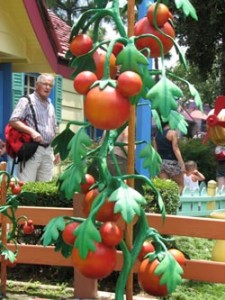 While it can be tough to really get your money's worth in a single day at any Disney theme park, you can still map out a great day and see a good chunk of it.  You can map out the highlights that you absolutely must see and then follow your schedule so that you don't miss anything.
One thing that you want to keep in mind with Magic Kingdom is that it is broken up into smaller park 'Themes'.  If you choose attractions in each theme, make sure that you completely finish up in one area before moving on to the next.  It is designed to get you to and from attractions much faster that way, rather than criss crossing the whole park jumping from Tomorrowland, to Adventureland, etc.
First of all, make sure you purchase your tickets ahead of time and arrive early.  Lines are long early in the morning, so buying your ticket in advance allows you to save time there.  Plan on arriving at the very latest, an hour early.  Often times the parks will open before the listed time and if you get there too late you will be stuck in a long line of traffic waiting to park.
Once you get inside, while it's tempting to shop around on Main St., save it for later.  It stays open an extra 1 or 2 hours after closing so you can do your shopping at the end of the day and not waste time or have to lug around a lot of merchandise.
Another thing you will want to note is that Magic Kingdom is built in a large circle and you can start in either direction.  Most people don't realize this and automatically turn right, beginning their day in Tomorrowland.  You can be the smart little bug and turn left, beginning your day in Adventureland instead, and going against the crowd.
When checking out the lines, double check that there aren't two lines that you can choose from.  Hop into the shorter one, as often times folks miss that completely and don't realize a second line is open.  Another great way to avoid lines and crowds is to hit the rides during parades.  Be sure you are on the side you want to be on before it starts, otherwise good luck trying to cross over.  And of course that is assuming no one is going to be particularly upset if you miss the parade in favor of popular attractions!
If you need a mid-day siesta, plan on taking it inside the park somewhere.  It is much easier than trying to leave and then come back later.  Also plan on staying late, as the park empties out pretty dramatically after dark and often times you can pack more great attractions into the last few hours before close than you managed to squeeze in all day.
Also remember to plan for rain, as you are in Florida and it rains regularly.  Pack a poncho and you can continue your journey without too much mishap.  Also, it would behoove you to avoid Fantasyland during the day and visit it instead at night.  It tends to be extremely crowded in the daytime and is much more fun a journey after dark.
Obviously your schedule will vary based on your family and tastes, but some of the top attractions you will want to plan to see include Adventureland, Space Mountain, Tomorrowland, Frontierland, Splash Mountain, Haunted Mansion, and Pirates of the Caribbean.  Of course there are many more attractions than that and again you just need to choose what you want to see and map out your day.  With a proper plan of action you should have a spectacular Magic Kingdom experience!