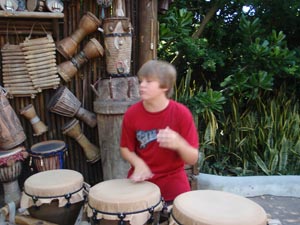 Planning your day at a theme park in advance can take loads of stress off of you and your family by the time the big day rolls around. You will have an idea of all that you want to try to see and do and a plan on getting through it as efficiently and enjoyably as possible. And while you may not be able to get through the entire park in a day and see every last thing, it is definitely possible to catch the highlights and have a wonderful experience.
The first step though is to purchase your tickets and preferably in advance. No sense wasting time standing in the ticket line if you don't have to! Also be sure to arrive early, at least an hour early as parks often open ahead of time and allow early parking.
Once you get inside, Epcot is divided into two main sections. World Showcase and Future World. Depending on your tastes, you can travel around the world inside the World Showcase. Dine in Italy, drink in France and shop in Morocco, all in the space of an hour or two! You might also consider getting the Fastpass to save you some time in lines once you start hitting the attractions.
If that doesn't appeal just yet, you can start your day by taking a hand glider flight over sunny California. One of Epcot's most popular rides, you can fly down to Hollywood, California from San Francisco and experience a little exhilarating wind in your hair.
Next, you might like to mosey on over to the Future World park area. It offers an interactive space travel ride called Mission Space that you can hop on if you are a thrill seeker. It also offers two different versions, so if one is too intense for you, there is a second less intense one for you to enjoy.
While you are there you might also hit some of the other Future World attractions as well. Journey Into Imagination With Figment and Bodywars is a good choice, and whatever other attractions might strike your fancy.
Another not-to-miss feature of Epcot is the 3-D special effects movie, 'Honey, I Shrunk The Audience' which is based on the hit movie 'Honey, I Shrunk The Kids'. It is great fun for the whole family, so you won't want to miss out on that.
Afterwards, browse around the Innoventions Pavilion, where you can play with all the futuristic tools that might be around some day, and grab some lunch to refuel for the rest of your day. While digesting lunch, you can take a nice relaxing boat ride through Living With The Land and have some great photo opportunities of some beautiful scenery.
Once you hop off the boat, you can check out the Sea's With Nemo And Friends, and ride the 'clam mobile' to journey under the sea and Find Nemo! On the way you can stop and let the kiddies have a talk with the Turtle Crush at the Crush show and find out all kinds of Turtle Trivia.
Top off your day by having dinner in the Coral Reef restaurant, where you can dine with a view of the beautiful fish tank and enjoy exquisite steak and sea food. The perfect way to finish a perfect day at Disney's Epcot center wouldn't you say?