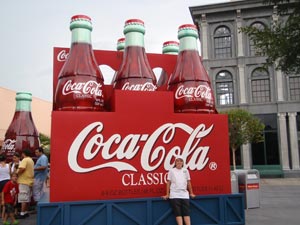 It doesn't matter if you travel to California's Disney Land or to Florida's Disney World. Unique Disney gifts are all around you.
You can go to the parks themselves and find gifts from every area of the park specific to that scene or land. You may be inside Walt Disney World and be at Cinderella's Castle, you can be sure that you will find a Palace with every Disney character making a royal party.
If you want unique gifts that are not characters or cartoons, you can visit many on location areas such as the hotels and resorts and find jewelry specific to Disney and labeled with beautifully bedazzled clasps with Disney's signature logo or 14 karat Mickey and Minnie rings and necklaces, whatever suits your fancy.
And if you really want some out of this world, unique, funny souvenirs from Florida, you can visit any number of souvenir shops surrounding Disney and all of their resorts. There you can find Mickey roping a cow or Goofy taming a gator. You can find Minnie in the Florida Orange State Beauty pageant or Daisy swimming with the dolphins. You get the picture, right? Anything you are looking for is pretty much in any surrounding shop in and around Disney World.
Oh, and don't leave out those Disney collectors. You can find something for everyone who collects art, decorations, baby souvenirs, even cigar boxes. If you can name it you can find it at the Disney shops at Lake Buena Vista. Even the hotels carry beach towels, sun glasses, hats and t-shirts, all with the Disney characters and logos on them in their shops! And of course, it is always nice to find deals and discounts on merchandise.
So don't forget the Disney Factory outlet shops. You can find these wonderful money saving shops just about anywhere and everywhere in Kissimmee and Orlando. There you can find anywhere from 50% to 75% off the original retail prices. Great buys you won't want to miss!
You can also find excellent deals and pricing, as well as unique Disney souvenirs on line. Try places like Amazon and Ebay. You might find some really great stuff and even some stuff that may be worth some money some day at a bargain price.
Whether you visit Disney in California, Florida, Europe or online – you can find any type of Disney gift you want. It is such a marketable place that outlet shops abound and Disney is all around you. You just need to double check and be sure all purchases are made through an authentic Disney dealer with the authenticated Disney logo.
Just remember to enjoy your trip wherever you decide to go and be sure you bring back a little piece of the Magic for future enjoyment!